How to use and where to get Instagram proxy?
Suparise enables you to automate multiple Instagram profiles from the same computer using Proxies. On this article, we'll cover a few things: single-account automation, multi-account automation, what proxies are and how to set them up.
DO NOT use free or public Proxies!
Do I need to use Proxy if I want to automate a single Instagram account?

No, you don't need to use Proxies if you want to automate only one Instagram account. Our Instagram bot will simply automate your Instagram profile from you default network IP.

On the Connect a Profile page inside your Suparise app, you can simply leave the "Connect using a Proxy" checkbox unchecked, and continue to connect your Instagram profile.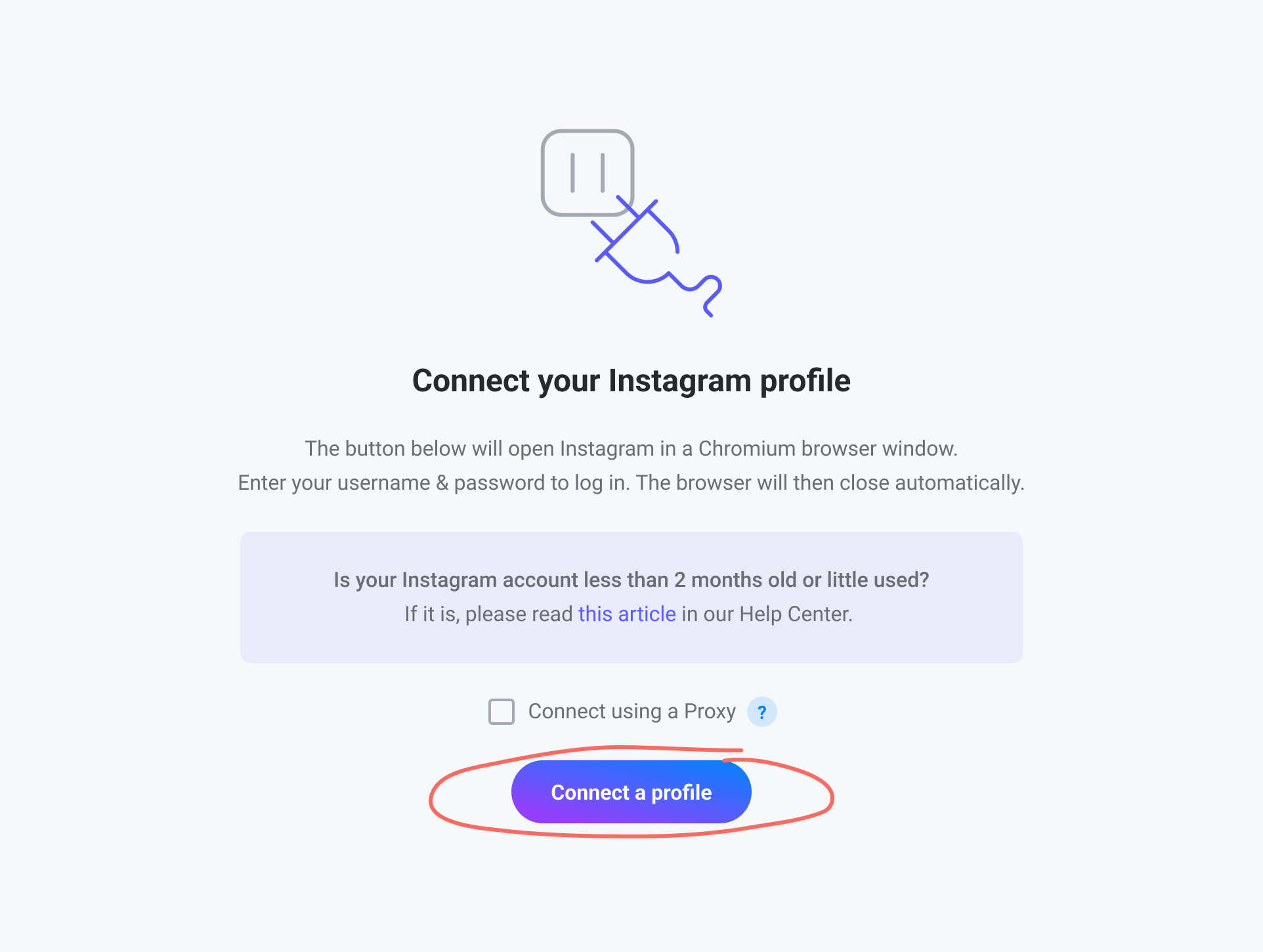 What is a Proxy, and why are Proxies needed for Instagram automation?

Whether you're a digital marketer, social media manager, business owner or a regular Instagram users: at some point you might need to manage multiple Instagram accounts from the same place and the same device.

Most social networks limit the amount of accounts that can be managed from the same IP and device at the same time. Instagram doesn't want you to use more than 1 account per IP address and per computer simultaneously.

If you want to automate multiple Instagram accounts from the same computer: you need to use a different Proxy for each account (except the first one, which can use your default network IP address).
What is a proxy?

A Proxy is a server that acts as a gateway between you and the internet. In a nutshell: it gives you a different IP, and will make platforms like Instagram believe that you're on a different network than the regular network you're using (at home, at your office, ...).
How do I set up a Proxy?

On the Connect a Profile page inside your Suparise app, you'll need to connect an Instagram profile to get started. It looks like this: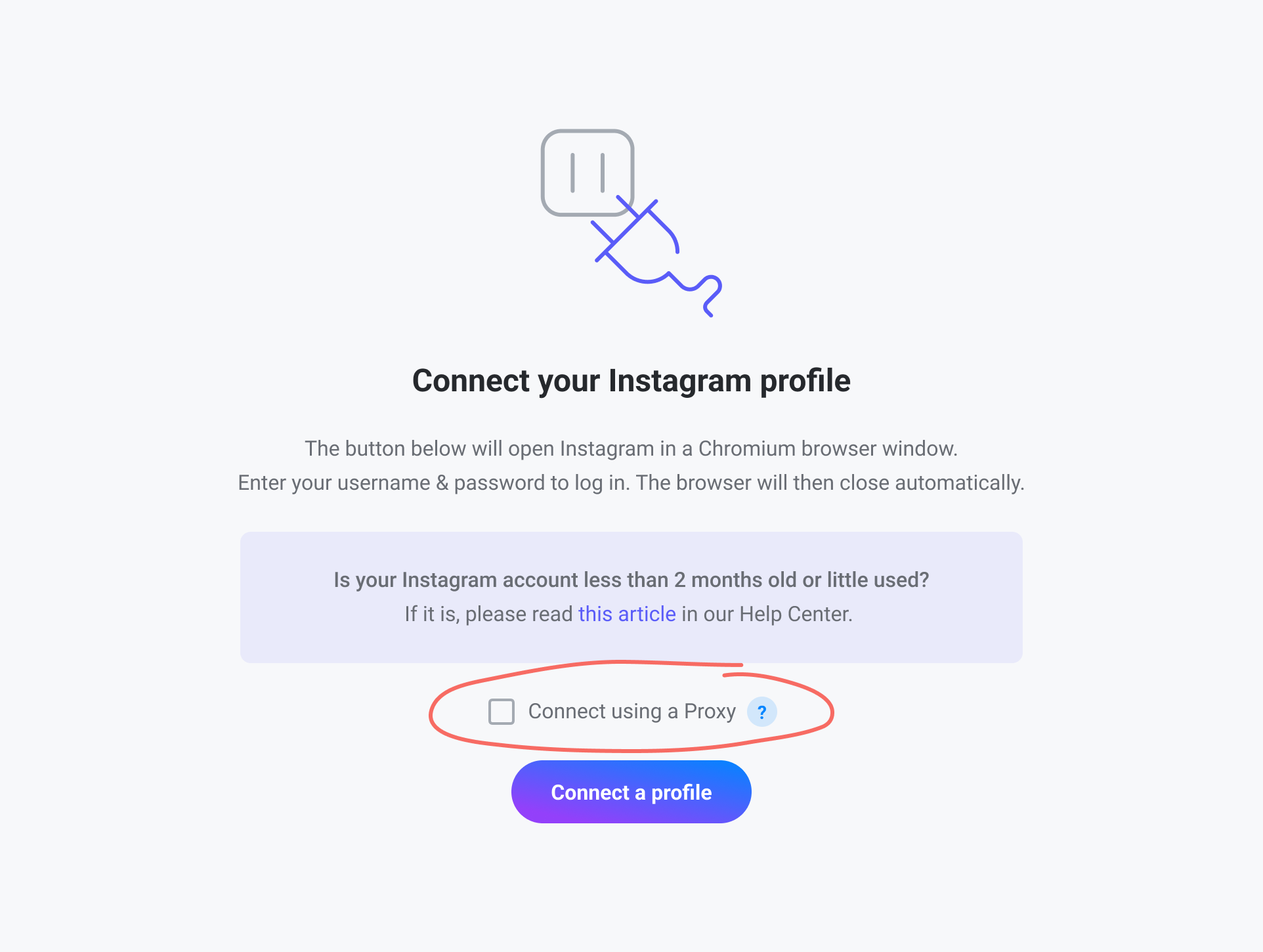 At the bottom, you'll see a "Connect using a Proxy" checkbox.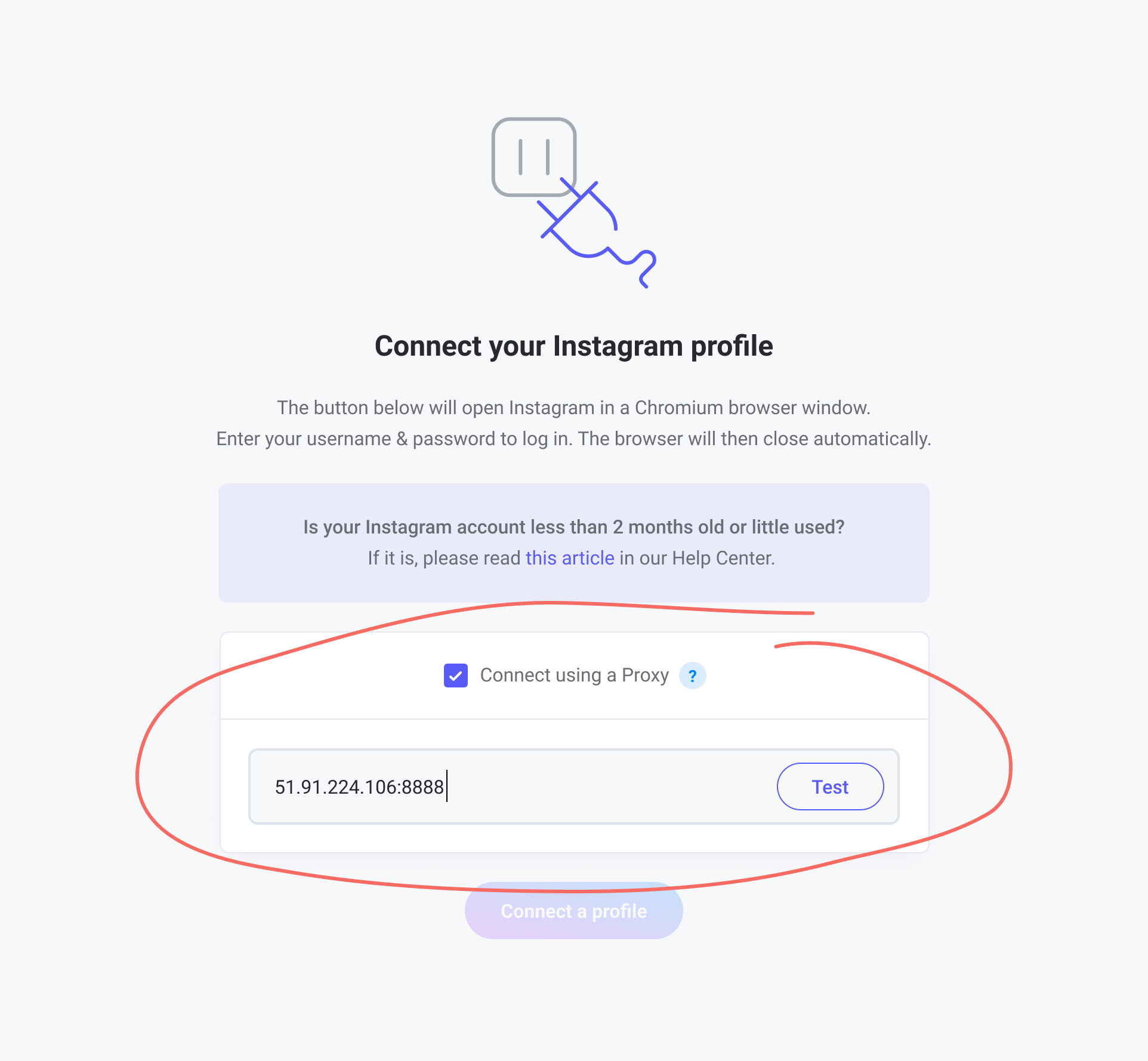 When checked, it will ask you to enter a Proxy address. When you buy a Proxy, your Proxy provider gives you an IP address that you can copy/paste here. When pasted, you'll need to test the connection using the Test button. If the test is successful, you can continue Connecting your account.
And that's it! From now on, this Instagram profile will only be running from the Proxy you've purchased. On your dashboard page, feel free to Re-test your Proxy every now and then just to make sure it's still working.
As a security measure: if ever the Proxy you're using dies, Suparise won't automate your profile.
Where to get Instagram Proxies?

You'll need to buy Private and Dedicated Proxies from providers. They usually charge you every month for a specific quantity of Proxies (1, 5, 10, 20, etc...). We recommend that you do your own research on Google, Blogs and Forums such as BlackHatWorld in order to find a Proxy provider you trust.

Do not use Public Proxies or Semi-dedicated Proxies. You need a type of Proxy that can only be used by you, and isn't shared with other people.
Can I automate multiple Instagram accounts without Proxies?

Yes. But you need a different computer for each Instagram account.

If you're not familiar with Proxies or afraid of them: you can automate multiple Instagram profiles with different computers and different Suparise accounts. We have a 50% discount for additional Suparise accounts, please contact us if you'd like to apply this discount.

This way you can have the following setup :
Computer A: Suparise account A + Instagram profile A
Computer B: Suparise account B + Instagram profile B (50% off)
Computer C: Suparise account C + Instagram profile C (50% off)
All running on the same internet network. We recommend that you don't automate more than 3 computers from the same network.
What happens if I don't use Proxies when automating multiple accounts?

Automating multiple Instagram profiles results in a high amount of activity coming from the same device and network that can be considered as spam by Instagram. Therefore you might get warnings, temporary blocks and even permanent bans from Instagram.

Although don't worry, Suparise doesn't let you automate more than 1 profile on the same computer without using Proxies. If ever you forget to set up a Proxy or if you Proxy dies: Suparise will only automate the first Instagram profile you've connected.